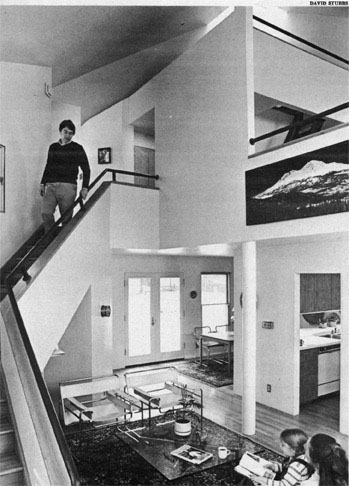 Hop kilns helped inspire the passive solar features of this 1,500-square-foot house in Redding, California. "The design is based on the convection principle of air movement that kilns use to dry hops," says owner-architect Ronald Beyer. "During Redding's hot summers, when temperatures average 95°, cooling breezes are precious. We create an interior draft by opening ground-floor windows—usually on the north side—and the stack skylights. The warmer air rises up the 'solar chimney,' while cooler air is drawn in below."
To make this principle work, Beyer designed the house around an open interior. The house is divided into two hip-roofed sections: the taller contains entertainment areas and the master bedroom, the shorter contains two children's bedrooms over a garage. The living room rises the full 37-foot height of the house. Under flat ceilings adjacent to the livingroom are the dining room and kitchen. The master bedroom is on the second level, overlooking the living room. From this level, a steep stair leads to a small study-loft directly under the skylight (top picture).
The Beyer house, which uses 6 inches of insulation in the roof, stays about 10° cooler than outdoors in summer. On excessively hot days, the draft alone helps cool the house.
What about the structure's performance in winter? "Then we only have to close the windows and the skylight and heat the ground floor," reports Beyer. "The heated air rises, automatically warming the upper part of the house. This past winter our monthly heating bill (for a gas furnace) never exceeded $25."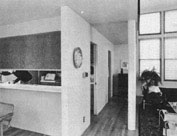 Sweep of space rises from living room floor past bedroom railing to loft. Conventional ceilings cover dining area and kitchen
Steel ladder leads to study-loft above master bedroom. Vertiginous view (below) to living room shows extent of open space